Home
Sires
Dams
For Sale
Around the Farm
Contact / Links
Welcome to Spots 'N Sprouts Speckle Parks!
Spots 'N Sprouts is a dynamic purebred Speckle Park cattle operation and grain farm near Neilburg, Saskatchewan. It is owned and operated by John and Dale Herbert.
Our involvement in Speckle Park cattle began in 1980 when the founder of the breed, Bill Lamont, asked us if we'd winter some of his cows. Our share of the calves from those 15 cows was the beginning of our greatest and most rewarding endeavours.
Because of many desirable attributes of Speckle Park cattle and our belief that the quality of the meat from this smaller framed breed is superior to the quality delivered by more conventional popular breeds, we have worked hard to produce a high quality herd while tirelessly promoting Speckle Park for over 30 years.
Upon its formation in 1985, John served as the first president of the Speckle Park Breeders' Association (later renamed the Canadian Speckle Park Association) for 10 years. Dale served as the association's CEO / Registrar from 1991 till 2004 and continued as CEO till 2006.
We are delighted to have been involved in many of the breed's firsts. Our kids were the first to show Speckle Park cattle in 4-H. We contributed to the first display of Speckle Park at Canadian Western Agribition. We contributed to the first group of Speckle Park entered in the Olds College Steer-A-Year project. A Spots 'N Sprouts bull was among the first group of Speckle Park entered in the Lakeland College bull test at Vermilion, AB.
We are honoured to be an integral part of the history and progress of the only beef breed ever to be developed in Saskatchewan and one of three developed in Canada.
Spots 'N Sprouts animals have been breed champions at Farm Fair International and the Calgary Stampede Steer Classic. We had great fun taking part in the Steak Challenge at the Canadian Bull Congress in Camrose, AB where more than once meat from our animals won first place honours.
Spots 'N Sprouts animals formed the basis of numerous herds in both Saskatchewan and Alberta in the '80's and 90's. More recently, Spots 'N Sprouts have exported genetics internationally, creating and expanding herds in Australia, New Zealand, and Ireland. We are very proud to see the name Spots 'N Sprouts in the pedigrees of so many top quality Speckle Park herds around the world.
We currently run a herd of over 100 head, about 80% of which are purebred. Yet, we continue our commitment to improve the quality of our herd while increasing its size.
More importantly we are grateful for all the folks we have met and the friends we've made along the way. We welcome you to stop by to have a look at our herd and are happy to answer any questions you may have. The coffee pot is always on.

Latest News
2022 Supreme Bull & Female Sale
April 15, 2022
Notta Ranch, Neilburg, SK
---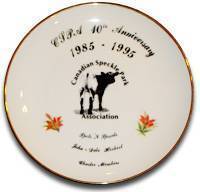 On the 10th anniversary of the CSPA these plates were awarded to the charter members of the association. When the association was formed in 1985, the owners of only 8 herds made up the entire membership. Spots 'N Sprouts is proud to have been 1 of those 8 members.